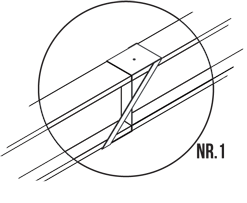 [ NL ] Hout is materiaal met een visueel geheugen. Het vertelt een verhaal in de vorm van een boom, balk of meubel. Met I-Joist verlengt Steven Banken het verhaal van het materiaal. De balk met I-profiel combineert verfijnde schoonheid met draagkracht. Deze genummerde eikenhouten elementen beginnen als onderdeel van een door Banken ontworpen dressoir. Solide balken functioneren als lades die in de lengte over messing wieltjes rollen.
Raakt het meubel uit de gratie, dan koopt de producent het hout terug en geeft het nieuw leven als hoogwaardig constructiemateriaal. Het traceerbare serienummer vertelt welke weg het eikenhout heeft afgelegd en haalt de draagbalk uit zijn anonimiteit.
[ EN ] Wood is a material with a visible memory. It tells a story in shape of a tree, beam or furniture. With project I-Joist Steven Banken continuous the story of the material. The beam with I-profile combines pure beauty with strength. These numbered Oak wooden elements begin as part of a cabinet. Solid beams function as drawers, which roll in the length on brass wheels.
Family, houses or aesthetics are in constant movement and changes. The rejection of used furniture is a part of this movement. Nothing has an ultimate destination. The owner of the cabinet can contact manufacturer "I-Joist" for the return service. I-Joist gives the joists a new life as high quality construction material. Every joist is registered with a serial number, which tracks down information on age, place and size.
materials: oak and brass
order | request info